Hey gang how are you all doing this fine Saturday? As you know I'm a major fan of Dragon Ball Super so any news I can get my hands on about the upcoming Dragon Ball Super movie I post as soon as possible. And I just got some awesome news, if you want to check it out for yourself click on the link below.
https://comicbook.com/anime/2018/11/02/dragon-ball-super-broly-promo-goten-trunks/
Promoting a special event for Japanese restaurant RingerHut, fans have noticed how prominently Goten and Trunks are being featured alongside heavy hitters like Goku, Vegeta, and Broly.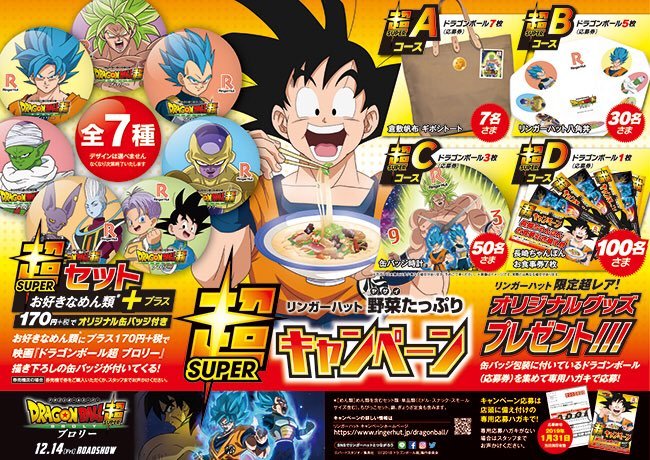 The special promotion with RingerHut runs from November to January in Japan, and fans can get special Dragon Ball Super: Broly goods if they visit the restaurant chain a certain amount of times and buy certain goods. But the included promotional materials feature art with Goku, Broly, Whis, Beerus, Freeza, Piccolo, and surprisingly a new art for Goten and Trunks.
With as prominently as Goten and Trunks are featured in promo materials for the film, which doesn't include major characters fans would suspect like Gohan, fans are wondering if this is another major clue of the return of the Gogeta fusion in the series.
Whether or not Goten and Trunks have any involvement with the fusion in the film, the fact that they are there has fans thinking that Goten and Trunks will either re-teach Goku and Vegeta the fusion dance, or at least explain some of their expertise using the technique.
Fans have been hoping Gogeta makes his official debut in the series canon along with Broly, and this could very well be another clue. Otherwise, why feature Goten and Trunks so prominently? They may have a connection with the character in the non-canon Broly films, but it is odd that they would be part of the initial promotional wave unless they had a key role.
Dragon Ball Super: Broly officially launches in Japan this December, and is currently scheduled to screen in Austrailia, New Zealand, and the United Kingdom as well. Funimation will be bringing the film to theaters in the United States on January 16th, and fans are just waiting to find out which theaters the film will release in.
Well thats it for this article. I hope you all enjoyed this post if you did and want email notifications everytime I make a post just hit that follow button and have an awesome rest of your day!